As our province worked to keep us safe, we saw our community come together in extraordinary ways to help each other out.
Many businesses added special programs and initiatives to help those impacted by the pandemic, others converted their production equipment to help with the shortage of much needed PPE and other medical supplies. Even though our venue was temporarily closed, we wanted to ensure we supported these initiatives and help our community come together, virtually, for special events such as Canada Day and New Year's Eve.
We partnered with Halifax Regional Municipality (HRM) for the virtual Canada Day celebrations which showcased some of our homegrown musical talent performing in various locations around the municipality. We were thrilled to assemble staging in the middle of Scotiabank Centre once again and use our new centre hung digital scoreboard as the backdrop for our part of the celebrations. We had to keep who was performing on our stage under wraps, but that didn't stop us from having a little fun teasing out clues of who it could be.
When the event aired, we were excited to have welcomed Nova Scotia based rapper, Classified, to our stage where he performed some of his greatest hits and brought us together, virtually, to celebrate Canada Day.
"Hosting memorable events is what Scotiabank Centre is all about," says Carrie Cussons. "As our community continued to face changing restrictions, we wanted to ensure we did our part to provide a little bit of normalcy and optimism with event experiences, even if they were held virtually."
When our venue was temporarily closed once again in December, we wanted to help kickoff the new year, virtually, for everyone who was celebrating at home. We became the backdrop for HRM's New Year's Eve concert that would usually take place on our doorstep in Parade Square. The celebration was streamed through Eastlink's YouTube channel for everyone in our province to tune-in. Our team provided their expertise to create a safe space for the performers which resulted in a memorable event for the viewers at home. The evening was hosted by Ben Caplan with performances by Ria Mae, JRDN, Knotez, Loviet, Leanne Hoffman, Owen (O'Sound) Lee, and a surprise performance by Nova Scotia's Chief Medical Officer, Dr. Robert Strang, joining in on the drums.
"Scotiabank Centre was able to bring our vision to life on New Years Eve in 2020. We were able to create a visual spectacle that stood above and beyond the common couch concert we grew accustomed to watching during the pandemic. With their state of the art scoreboard being re-imagined by our team, we were able to provide a one of a kind display of art to our citizens and music community alike. It is a memory our team will have forever and it's thanks to the team at Scotiabank Centre for allowing us to create it during a time that felt lost for events."

- Billy Comer, civic events coordinator and director of events operations, Halifax Regional Municipality
We are Scotiable Proud
At Scotiabank Centre, we have an incredible group of partners who've supported our venue over the years. To thank them for their continued support, we developed the #Scotiable Proud campaign.
Throughout the summer, we celebrated the various ways our partners supported our community during difficult times, through an advertising and marketing campaign. From food and monetary donations, to converting equipment to make face shields and putting new support services in place, we wanted to let our partners know how Scotiable Proud we were of them. The campaign consisted of radio, print and digital ads, graphics on our Duke Street digital screen, and a designated page on our website where we listed all our partners and their initiatives.
"Scotiable Proud was a way to highlight the incredible work our partners were doing to support and give back to our community," says Suzanne Fougere. "We know it was a hard year for everyone, including our partners, and this was our way to say thank you for their continued support."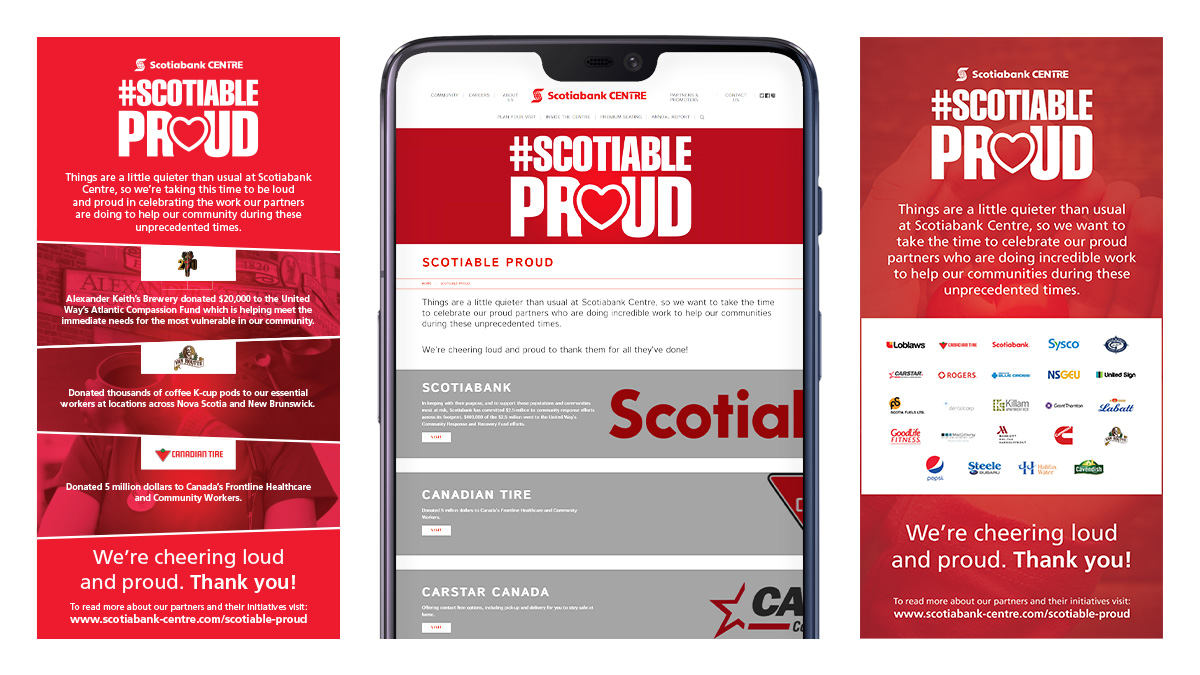 Thunderbirds Camps for Kids
We were thrilled to have the Halifax Thunderbirds return to the nest in March to host their first ever training camp for kids. We were able to rollout the lacrosse turf once again as the Thunderbirds' very own local players Kyle Jackson and Stephan LeBlanc, welcomed two very excited groups of kids over two days to learn new skills and techniques and improve their lacrosse game.
"We are extremely thankful to our partners at Scotiabank Centre for their commitment to working with the Thunderbirds organization and helping us grow the game of lacrosse. Hosting events like this on the same floor that the pros play on is an experience these kids will never forget. We are looking forward to hosting more events like this in the future at Scotiabank Centre."

-John Catalano, president & CEO, Halifax Thunderbirds
In the end the lacrosse camps were a success, providing an opportunity for the next generation of lacrosse players to learn from two of the best on the Halifax Thunderbirds' official National Lacrosse League turf!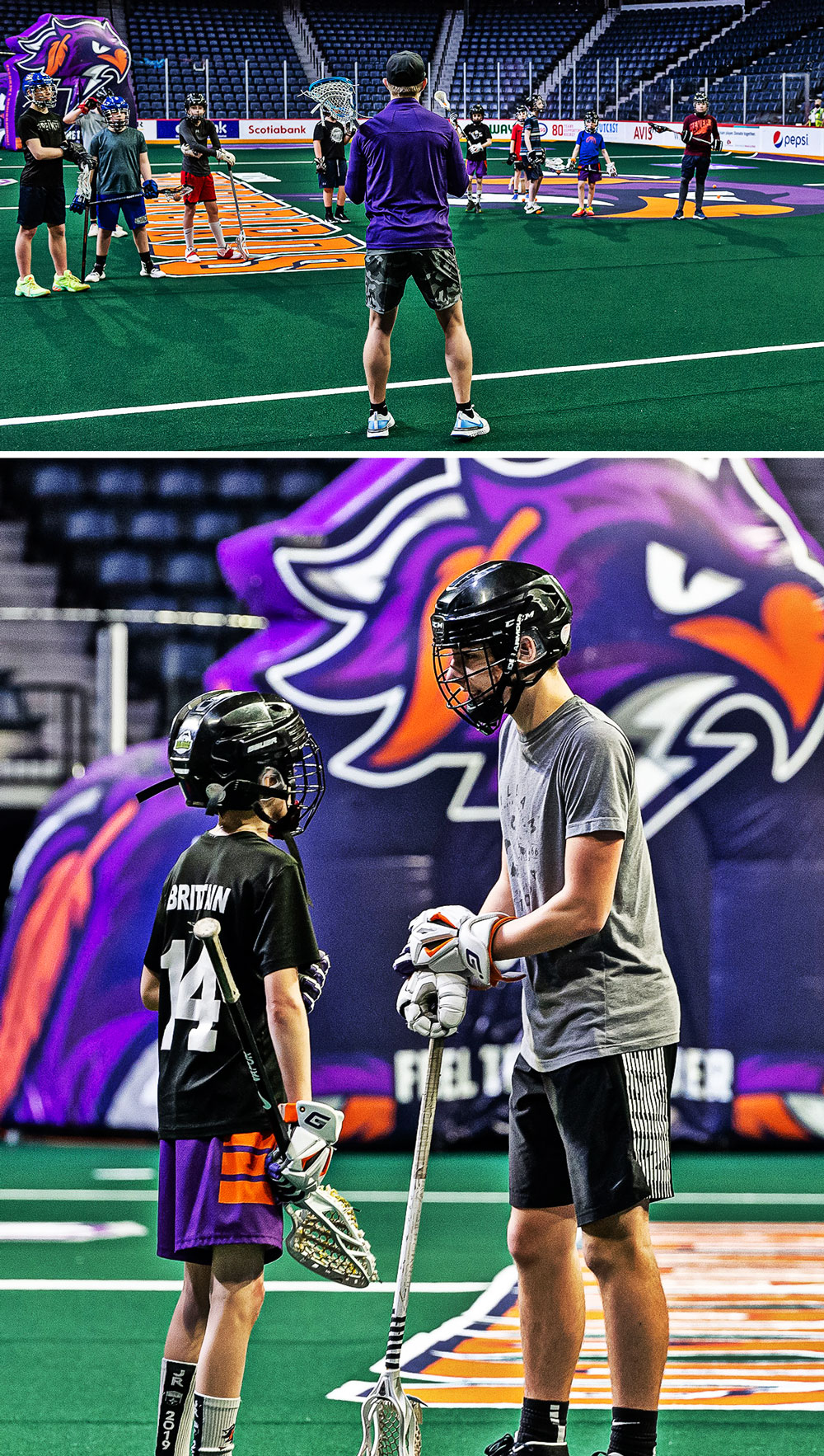 Home Away From Home for Team Canada
We were excited to welcome the women's national hockey team who made Scotiabank Centre their home away from home for their national training camp on March 2-7th, as they prepare to go for gold at the 2022 Winter Olympics in Beijing. Our operations team at Scotiabank Centre worked in partnership with Hockey Canada to ensure our venue was ready to welcome the 35 players, coaching staff, and support team in a safe way. It was five days of intense hockey action as Canada's top female players trained hard to be ready to take on the world in 2022!